A perfect gift for your girlfriend is something that will show her all the love and affection that you have for her. That can sometimes be quite difficult, especially if you're out of ideas.
In today's article, we've included the best gifts for a girlfriend in 2021. that are unique and perfect for any occasion: birthday, Christmas, New Year, Valentine's Day, etc.
For a girlfriend that loves to relax
From my personal experience, one of the greatest methods of relaxing for women is bubble baths and candles.
If your girl is one of them, you should always pick all-natural candles that don't have paraffin, synthetic fragrances or a bleached wick.
For a girlfriend that cares about nature
Beauty products are every girl's best friend. If you open their bathroom cabinet, I'm sure you'll find a lot of different products. You might even ask yourself if she even uses all that (yes she does).
In 2021, the biggest hype is natural products. We all want to make the planet a better place and we should do as much as we can to contribute to the healing of the Earth.
Therefore, a lot of people are starting to use only natural products and that is one word: awesome!
The best gifts for a girlfriend that loves natural products would be products by RMS Beauty, Kosas, W3LL, Ilia, Kjaer Wise, etc.
For a girlfriend that adores animals
For every pet lover, here is the perfect git: a custom pet blanket!
Whether you two have a pet or your girlfriend is obsessed with pandas, you can make her a blanket with a print of her favourite animal. It doesn't get cooler than that.
For a girlfriend that is obsessed with fitness
Fit girls are all about their fitness clothes because it is important to have high-quality clothing that is durable and super cute.
If your girlfriend is one of them, be sure that she would love some Lululemon leggings, maybe a crop top from Gymshark or even something from the newest Buffbunny collection.
If she has enough clothes, then start thinking in the direction of supplements and protein bars (nothing better than guilt-free chocolate, right?).
Another idea of the best present for your fitness girlfriend is: buy her 6 months or a year of a gym membership. Every fitness enthusiast would love that.
For an artsy girlfriend
If your girlfriend adores creating art, then buy her supplies! There's never enough acrylic paint, brushes, canvases, pencils and sketchbooks! 
An artsy girlfriend loves to create, but a thoughtful gift would be if you created something for her. Try to paint something for her or print out some cute photo of both of you on a canvas. You can write her a cute note on it and I'm sure she will love it.
If you are a bit on the wild side, you can check Pinterest for more DIY ideas. Sweep that girl off her feet!
Remember, your girlfriend will appreciate whatever you get her, just be thoughtful. Think of what she likes and follow your intuition. And write a cute little note. Always write cute little notes.
Latest Review on Woof Blankets

To have such a masterpiece by my side every day is a gift for me and my memories with Rex. Thank you WoofBlankets for such an opportunity to recreate his image on a blanket.

Lara o' Miguel

US, California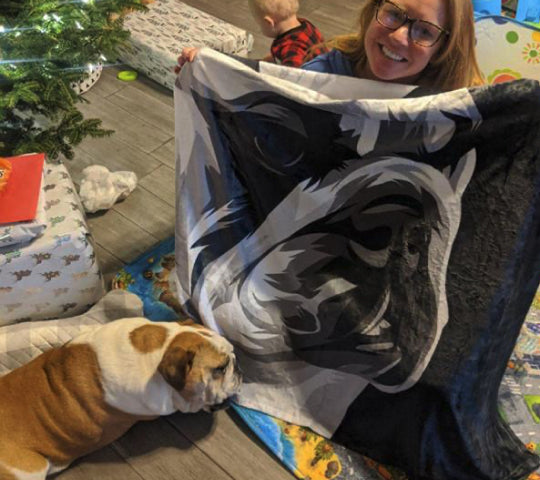 COLLECTION WORTH EVERY PENNY
BEST SELLERS