Our dogs sometimes behave so humanly that they react emotionally to us with very expressive and sensitive facial expressions. Dogs with floppy ears radiate friendliness. This is especially evident when they have distinctive physical characteristics such as a curled tail, marbled eyes, or, as in this case, beautifully long, flowing ears. Some breeds use their long ears as a distinguishing feature, almost as a style accent. When galloping fast, their ears take on a regal, wing-like appearance. 
In addition to their amazing appearance, these breeds are adored for their warm natures and excellent companionship. This blog will show the ten best behaved dog breeds with floppy ears. 
Top Ten Breeds of Dog with Floppy Ears
1. Cocker Spaniel
Disney's "The Lady and the Tramp" probably inspired many children to develop a love for cocker spaniels. These cute little dogs are kind and submissive and fit in well with families. They exude great friendliness and offer kindness to strangers and children thanks to their adorable floppy ears. However, you will have to invest some considerable grooming time to get the amazing silky coat, but that's the least you have to do for the most beautiful furry friend in the room. 
2. Bloodhound 
These huge dogs are known for their floppy ears and drooping jaws. They are also considered to be the friendliest breeds. Bloodhounds show exceptional compatibility with people of all ages, from young children to the elderly beings. However, without adequate fencing, these canines could wander off if they picked up a scent, which could result in them being discovered far away.
3. Beagle 
Since the Beagle is closely related to the much calmer and more relaxed Basset Hound, it's quite funny that they have a lot of energy. Their distinctive howl and floppy ears, which immediately sets them apart, is one of the most distinctive characteristics of the breed. Beagles are renowned for their extraordinary devotion and optimistic personality. They are a great choice for families with young children due to their fun-loving nature and are one of the best behaved dog breeds. They are remarkably trainable and can be used for a variety of tasks, including hunting and learning the most basic commands. 
4.  Sussex Spaniel
This attractive breed of Spaniel might look similar to the cocker cousins, however, they have several unusual qualities of their own. These furry babies can be friendly to strangers. So, if you have guests in your home, you will not have to worry as these pups will probably be playful with them. You must take into account the fact that these floppy eared dogs can be sensitive. Sussex Spaniels care about your opinion and will apologize immediately if they have offended you in any way.
5.  Weimaraner
The Weimaraner is a beautiful dog with silver-gray fur, light blue eyes and cute floppy ears. Weimaraners, often known as Weims, can be a wonderful addition to your home. They have a huge affection for people, especially children, and will try to be by your side all day. Weims are best suited for busy families who can provide them with plenty of exercise, playfulness and love.
6. Golden Retriever
Golden retrievers have long been considered the best behaved dog breed and the ideal family companion. This breed has intelligence, a pleasant disposition, and a sporting nature. Goldies were bred to work and therefore require regular exercise to maintain their happiness and well-being. These loyal and happy pets look forward to any kind of quality time spent with their human friends.
7.  Australian Shepherd
With their distinctive coat colors, exceptional eyes and floppy dog ears, the Australian Shepherd stands out as a naturally attractive breed. Aussies, as they are affectionately called, are intelligent and spirited dogs that thrive on challenges. These devoted dogs are happiest when spending time outside with their loved ones, whether that means going for runs, walks or playing games of fetch.
8.  Shih Tzu
Known for their silky coat, prominent underbite and floppy ears, these little dogs exude charm and sociability in equal measure. You can expect your shih tzu to attract admiring glances and a stream of compliments wherever he goes. These babies enjoy the attention of new people, but what he really wants is your undivided attention and affection.
9. German Shorthaired Pointer
You can recognize this breed immediately; thanks to their distinctive markings, floppy ears and alert attitude. Developed as hunting dogs, the German Shorthaired Pointer (GSP) is a loving and active breed that requires a lot of attention and exercise. GSPs thrive when they can use their brains and agility for activities like fetch or swimming.
10.  Havanese
Bursting with joy and activity, these lively little fluffs radiate absolute delight. They have floppy ears and a luxurious coat that requires more frequent grooming than other dog breeds. Regularly cleaning the flap of the inner ear with a paper towel and checking the ears for wax build-up is vital for their well-being.
Why Do Certain Dog Breeds Have Floppy Ears?
Amber Karwacki, DVM at the Heart and Paw in Philadelphia says that "Dogs with floppy ears are due to the domestication of dogs long ago". The reason, she says, is that domestication caused the adrenal glands to produce less adrenaline. As a result, the amount of stem cells, or neural crest cells, produced by the adrenal glands is reduced.
She says some breeders were largely focused on other traits, they did not express too much concern when these dogs started to have droopy ears. "These cells are responsible for different traits in a dog, including ears," Karwacki says. "Dogs with more of these cells will have upright ears, while dogs with fewer cells will have floppy ears."
Takeaway
No one can dispute the undeniable fact that these are some of the best behaved dog breeds. The droopy ears give them an extra layer of cuddliness and approachability. If you do not have these furry babies at your place, it may be time to think about adding one to your household. 
Frequently Asked Questions About Dog Breeds With Floppy Ears
1. Do dogs with floppy ears have higher risks of having ear infections?
Dogs with big floppy ears are prone to ear infections. This is because of the presence of moisture in those big ears and the lack of decent air circulation. As a preventive measure, you should ensure to clean and wax the floppy ears on a regular basis.
2. What are the dog breeds that are popular for their amazing floppy ears?
Here are some of our best behaved dog breeds with floppy ears, ranging in size from tiny puppies to gentle giants: 
Cocker Spaniel

Bloodhound 

Beagle 

Sussex Spaniel

Weimaraner

Golden Retriever

Australian Shepherd

Shih Tzu

German Shorthaired Pointer

Havanese
3. Do the floppy ears in certain dog breeds serve any main purpose?
Breeds bred these dogs for scent-based hunting. Ears that dampened some background noise made it easier for them to focus on scents in front of them enabling better tracking.
4.  What are the popular floppy eared dog breeds for children and families?
Here is a list of some of the best behaved dog breeds with floppy ears:
Cocker Spaniel

Bloodhound 

Beagle 

Sussex Spaniel

Weimaraner

Golden Retriever

Australian Shepherd

Shih Tzu

German Shorthaired Pointer

Havanese 
5. How can I clean the floppy ears of my dog and take good care of them?
Gently wipe the area around the entrance of the ear with a moist cotton ball to effectively remove any dirt or excess wax. Be careful not to push too hard, insert the tip of the dog-friendly ear cleaner you have chosen into the ear canal. Then gently squeeze the bottle to release the ear cleaner. Allow your dog to shake its head once the cleaning is done. 
6. What are the hypoallergenic floppy eared dog breeds?
Here are the breeds of dogs with floppy ears perfect for those with allergies:
Shih Tzu

Bichon Frise

Highland Terrier

Giant Schnauzer

Scottish Terrier

Bedlington Terrier

Portuguese Water Dog

Maltese
7. Can the floppy ears cause hearing difficulty or any other health issues in dogs?
Dogs with droopy ears do not have any hearing difficulty, despite the fact that many people think they hear muffled sounds. However, these dog breeds are more at risk of having ear infections. In order to avoid any possible complications, it is best to  clean their ears at regular intervals.
8. What personality traits and temperaments do dogs with floppy ears have?
Dog breeds with drooping ears usually have a kind and approachable attitude, which makes them excellent companions. Scientists believe that the genetic buildup of dogs and the process of domestication are the source of these characteristics.
Reference Articles :
https://www.hepper.com/dog-breeds-with-floppy-ears/

https://www.dailypaws.com/living-with-pets/pet-compatibility/dogs-with-floppy-ears

https://www.rd.com/article/dogs-with-floppy-ears/

https://www.rover.com/blog/dogs-with-floppy-ears/

https://a-z-animals.com/blog/discover-the-most-popular-small-dog-breeds-with-floppy-ears/

https://www.oodlelife.com/small-dog-breeds-with-floppy-ears/

https://people.com/pets/why-do-dogs-have-floppy-ears/

https://www.thepioneerwoman.com/home-lifestyle/pets/g36972592/dogs-that-dont-shed/
Recommended Articles :

Latest Review on Woof Blankets

To have such a masterpiece by my side every day is a gift for me and my memories with Rex. Thank you WoofBlankets for such an opportunity to recreate his image on a blanket.

Lara o' Miguel

US, California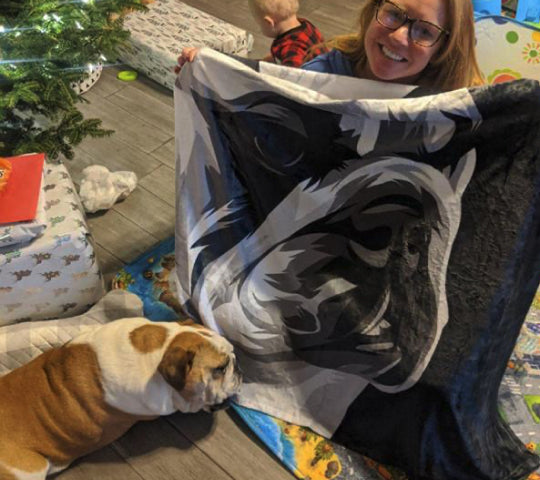 COLLECTION WORTH EVERY PENNY
BEST SELLERS