Who doesn't like a personalised item that's a reminder of how unique and special we are?
Whether it's a personalised number plate, a favourite coffee cup with our name emblazoned on it or a cosy "class of" hoody, that lists our name alongside those of our classmates and evokes memories of bygone years, we are good at putting our stamp in undeniable ways on everyday items that we use.
So why not extend the same to your favourite four legged friend?
The gifted bunch at woofblankets.com have come up with a breathtaking array of personalised pet blankets and a visit to their website will enable you to see just how many different blanket designs are on offer!
The designs range from styles that display multiple photos of you with your favoured furry friend or just snaps of them, through to designs that commemorate particular days and events such as the 4th of July and Valentines Day.
There are multiple colours to choose from and each blanket is made from fabric that will keep your animal companion warm and cosy whilst at the same time displaying how precious they are to you!
Having these one of a kind personalised pet blankets to your door is easy.
Simply visit the woofblankets website and upload the photo or photos you want displayed on the blanket and choose the style of blanket you require.
The industrious woofblanket design team will then get to work putting together a sample of your personalised pet creation.
Once this is complete, it will be emailed to you for your approval. The option to request multiple revisions means maximum peace of mind that the final product will be what you were hoping for.
And with the availability of gift cards, this pet accessory can be within reach of family members, friends and other loved ones too!
Latest Review on Woof Blankets

To have such a masterpiece by my side every day is a gift for me and my memories with Rex. Thank you WoofBlankets for such an opportunity to recreate his image on a blanket.

Lara o' Miguel

US, California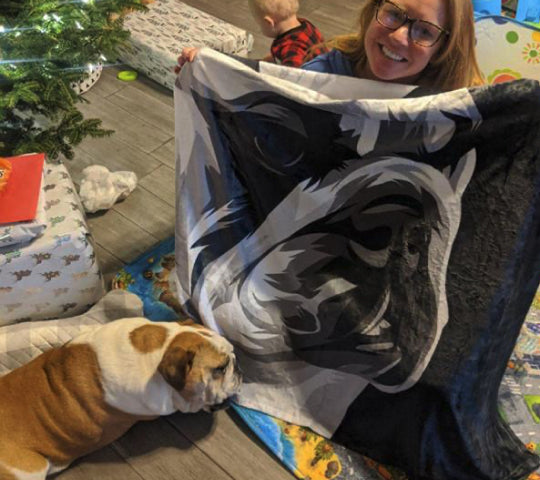 COLLECTION WORTH EVERY PENNY
BEST SELLERS