"A dog is the only thing on earth that loves you more than you love yourself." 
So said Massachusetts born humourist Josh Billings.
And any of us who have had a dog as a companion, confidante and playmate will heartily agree.
Few, if any, creatures on earth look into our eyes with such eagerness, welcome us with such tail wags and fill our days with as many moments of pure joy.
And this is why the hole they leave when they're gone can be so huge. So disproportionate to the physical size of the canine friend who has departed, but so proportionate to the many memories and treasured hours of company they represent.
With advances in modern technology, it is now possible to memorialise these memories with a personalized pet memorial gift so that although those eager eyes and tail wags may be a thing of the past, our lives can still be filled with the sight and memories of our furry friends.
The dog (and fun) loving people at Woof Blankets (www.woofblankets.com) know just how to help. A visit to their user-friendly site opens a world of possible ways to memorialise your four legged friend(s) and with a few mouse clicks your memorial can be on its way.
The first step is to upload a favourite photo of your four legged friend (or "Woof Babies" as the people at Woof Blankets call them!), one which has your furry companion's best angles and colours. Given the technology on most smartphones, one of the many snaps you already carry around with you may be just right!
The next step is to choose your memorial product or products and boy, do Woof Blankets have a selection to choose from!
There are over 15 styles of personalised pet blankets to choose from, 50 (yes, 50!) different portrait styles for you to peruse, customised pet pillows and more varieties of customisable pet mugs that you can shake the proverbial stick at!
Once you have chosen, all that remains is to send your choice and pet snapshot through to the folk at Woof Blanket using their user-friendly online upload system.
Within 3 to 5 business days you'll receive an email with several previews. Once you've made your choice (requesting any revisions if necessary), all you then need to do is sit back and wait for your personalized pet memorial gift to be delivered.
And now's probably a good time to let the cat out of the bag (pun definitely intended!). The good people at Woof Blankets don't just enable you to make personalized pet memorial gifts for dogs – they can be made for any pet!
What's more you can also buy Woof Blanket gift cards from our website so even if you don't have a pet or need a personalized memorial gift, but have family or friends that do, what better way to let them know you care?
Latest Review on Woof Blankets

To have such a masterpiece by my side every day is a gift for me and my memories with Rex. Thank you WoofBlankets for such an opportunity to recreate his image on a blanket.

Lara o' Miguel

US, California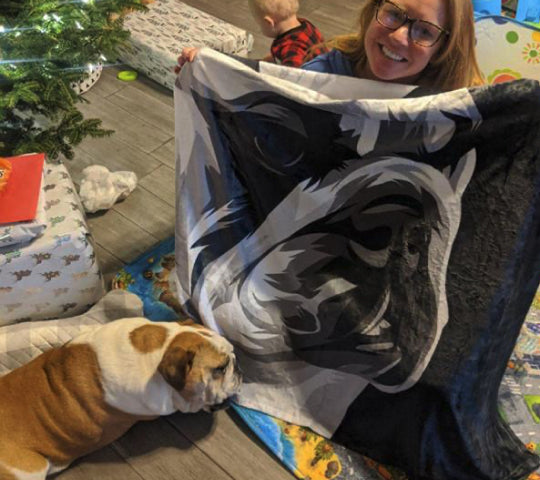 COLLECTION WORTH EVERY PENNY
BEST SELLERS