Show off how cute your pet is in a new, unique and impressive way. Woof Blankets produces high quality, super soft blankets that feature your pet's adorable face. It's certain to be a standout home accessory. At Woof Blankets, our mission is simple; we want to spread the sunshine, warmth, companionship, and loyalty of pets to as many lives and homes as possible. Whether it's for you and your pet or your friend and theirs, Woof Blankets are completely customizable and perfect for both humans and pets. One of our best selling products is the custom pet photo collage blanket and it's no surprise; this lovable product can incorporate not just one adorable pet photo, but up to four. Get their best, or worst angles artistically converted onto a blanket.

The custom pet photo collage blanket won't simply place your pet's face on a blanket; it will allow you to customize it to ensure the blanket completely captures your fur-friends precious personality. First, you choose the size that you want your blanket; choose from 30x40inch, 50x60inch, or 60x80inch. The next step is to choose a color from one of seven appealing and popular colors. The colors come in razzmatazz, light blue, purple, black, brown, pink, and avocado green. Regardless of an introvert or extrovert pet, there's a color to suit them. After selecting the perfect color, you can choose the template layout from 6 different designs. Add text or a message to the blanket and finish by uploading the adorable images of your pet. Can't pick just one photo? That's why we have you covered. One image is never enough to truly capture the cuteness of your pet which is why the collage blanket is a perfect choice as you can print multiple photos on the blanket. We know how exciting a delivery like this can be so we make sure that you'll receive it as fast as you can.

Showcase the love you have for your pet or the love your mother has for hers with this public display of affection blanket. The compassion and love that pets bring into our lives stays with us forever, even when they can't. Immortalize their place in your life and family with the collage blanket. If you're lucky to have your pet still in your life, you can rest assured that the blanket material is paw and claw-safe. It will keep you and your pet warm for years to come. Along with the conveniently customized design, there are still many incredible features of the custom pet photo collage blanket. The collage blanket comes in high-quality bold and sharp colors to product a life-like artwork. The artwork won't wash off or fade as it has been carefully constructed to keep you smiling for a long time. The fleece material is warm, fluffy, and soft; perfect for those cooler months. Not only is your collage blanket full of images and full of love, but it's made with love too as our devoted team is just as passionate about pets.

Our valued pet photo collage blanket owners have been loving their newest additions. They have praised the collage blanked for bringing so much joy into the home. Many have shared their comments about the realistic images and super soft quality. For those missing a pet that has passed, the collage blanket has provided a missing piece. Some collage blanked owners use it daily while others love it too much to use that they have hung it up in their house as decoration instead. Our exquisite design and intricate material have impressed many with customers coming back to buy more, recommending to friends, and buying as fits. The collage blanket is the perfect birthday gift, mother's day gift, and even a Christmas gift. At Woof Blanket, we pride ourselves in delivering token, valuable and sentimental gifts made with incredible quality that provide the warmth and love pets offer.

Feel the love and experience the warmth of the custom pet photo collage blanket with your fur-friends face. The custom pet photo collage blanket is produced in the US, designed by a real artists and immensely loved by woof parents everywhere. We offer international shipping and fast, free US shipping. You can securely purchase our incredible products knowing there are 30-day money-back, satisfaction, and quality guarantees, but we are certain you will love your blanket. Start the simple process of designing your custom pet photo collage blanket today and show off your love for your pet. 
Latest Review on Woof Blankets

To have such a masterpiece by my side every day is a gift for me and my memories with Rex. Thank you WoofBlankets for such an opportunity to recreate his image on a blanket.

Lara o' Miguel

US, California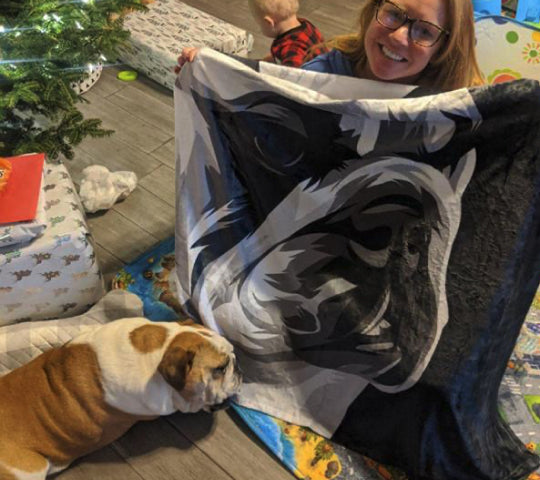 COLLECTION WORTH EVERY PENNY
BEST SELLERS